What is Eskimo/Lapin?
Eskimo/Lapin is not a business or a capitalist endeavor. Disques de Lapin is not a record label. Eskimo Films is not a film studio. Lapinism is the ideal, and Eskimo/Lapin is the tool for achieving it.


Q: WHERE, ASIDE FROM HERE, CAN I OBTAIN ESKIMO/LAPIN RELEASES?
A: Here are some places:

Q: WHAT ARE THE LAPIN RELEASES?
A: To date, we have released the following Disques de Lapin:

2006 - "So Long, Lale Andersen", "Little Sarah Sings"

2007 - "Vanity Is A Sin", "A Taste of Lapin", "Songs For Children Vol. 1", "To The Wolves..." Soundtrack
2008 - "B-Sides and Lost Singles", "Be Other", "The Rose-Tinted Monocle", "Rabbits In Your Stocking", "Songs For Children Vol. 2"
2009 - "Every Missing Duck Is A Duck Missed", "Governor Penguin", "More Tales From The Garden"
2010 - "Très Pathétique", "Bazaar Creatures", "Monkeys In The Rabbit Hole", "Brown Is The Colour", "Jack" Soundtrack, "Happy Birthday, Cake Eater" Soundtrack, "Rainy Day Rainbow People"
2011 - "Golden Greats", "Nos Coeurs Expulses", "El Mismo Hombre"
2012 - "Songs of Love, Hate and Fear", "Monoliths", "When We Had The Moon", "Blood Jungle" Soundtrack, "Pills For an Ill Silly Heart"
2013 - "The Cyborg Project", "Future Illusions"
2014 - "Memorias", 

"The Portable Nöla", "Nacimiento", "Nada Que Perder: Una Celebración de Ô Paradis"

Q: WHAT ARE THE ESKIMO FILMS?
A: We have filmed and released the following Eskimo Films:

Q: WHY?
A: We offer these releases for sale in a non-profit sort of mentality. Monies obtained through the shoppe are put towards making more releases, putting on events and (most importantly) paying for two animals who we sponsor. One is a goose named Rachael and the other is a rabbit gentleman named Dagwood: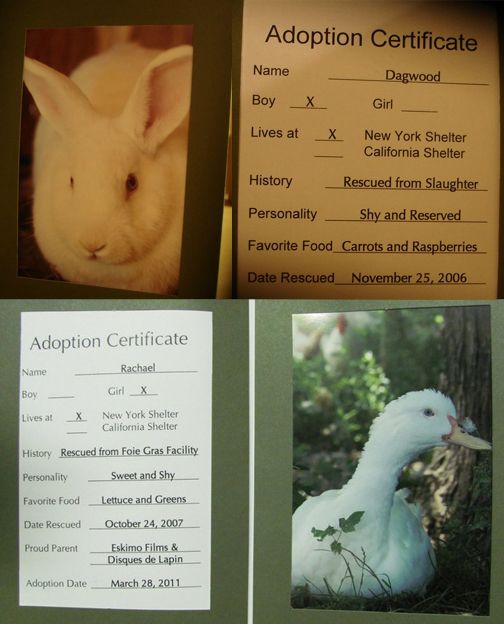 Both of these friends are at Farm Sanctuary, a charity we believe in. They rescue animals from people who mean to murder them in slaughterhouses and things of that horrific nature. Visit their website, read up and give money to them, if you can.


Q: WHERE ARE YOUR ESKIMO/LAPIN RELEASES MANUFACTURED (not including your consignments from other labels)?
A:

CDs - Taiwan and the U.S.A.




Cassettes, DVDs and books - U.S.A.




Vinyl - Czech Republic and Taiwan




Handmade packaging - A worker co-op in Portland, OR, then printed by Lapin at Lapin Manor.




Buttons and stickers - U.S.A.



We are currently transitioning to 100% U.S.A. manufactured releases, due to the nastiness of globalization and the stupidity of having things made on another continent when they could just be made here.

Q: I AM POOR.
A: That is a statement, not a question. If you would like an Eskimo / Lapin release but are short on shekels, contact us. Perhaps we can work something out for free.


For now,
ESKIMO/LAPIN
Winter 2015 - Lapin Acres, VT